Aleksandra Kacperczyk
Fred Kayne (1960) Career Development Professor of Entrepreneurship
Associate Professor of Technological Innovation, Entrepreneurship, and Strategic Management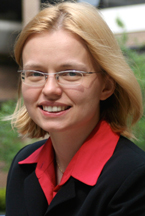 Aleksandra Kacperczyk is the Fred Kayne (1960) Career Development Professor of Entrepreneurship and an Associate Professor of Technological Innovation, Entrepreneurship, and Strategic Management at the MIT Sloan School of Management.
Kacperczyk's work focuses on how social structures shape the processes of entrepreneurship and innovation. Using the lens of organization theory and economic sociology, her research examines how such processes are generated and how they affect the key outcomes for organizations and individuals. Her current research explores how entrepreneurial processes interact with organizational boundaries in knowledge-intensive industries via an individual's decision to found a new venture inside the organization or to leave and launch a new idea through a startup. Using biographical data on portfolio managers in the mutual fund and hedge fund industries over the last two decades, Kacperczyk examines how school ties, identity, and career imprinting affect an individual's entrepreneurship choices. In her other projects, she studies how changes in the legal environments reshape organizational boundaries by shifting managerial attention to non-shareholding stakeholders, and how work boundaries influence the structure and content of social ties across time and different cultures. Her work experience includes strategy consulting to multiple entrepreneurial ventures in transition economies in Central Europe. She lived and worked in several countries, including Poland, France, and Canada.
Kacperczyk holds a BA from Mount Holyoke College and a PhD in management and organizations from the University of Michigan.
General Expertise: Career development; Competitive strategy; Corporate diversification; Corporate social responsibility; Corporate strategy and policy; Discrimination; Diversity; Employee termination; Employment relations; Entrepreneurship; Gender issues; Innovation; New venture development; New ventures; Organizations; Product innovation; Social networks; Social responsibility; Startups / Start-ups; Strategic management; Strategy; Turnover; Work-life balance; Worker / management relations
For more background on this faculty member's research and academic initiatives, please visit the MIT Sloan faculty directory.
Contact Information
Office: E62-484
Tel: (617) 253-6618
Fax: (617) 253-2660
E-mail: olenka@mit.edu
Support Staff
Stephanie Taverna
Tel: (617) 253-2676
E-mail: staverna@mit.edu