Michael Scott Morton
Jay W. Forrester Professor of Management (Emeritus)
Professor, Technological Innovation, Entrepreneurship, and Strategic Management, Emeritus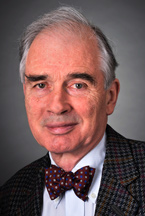 Dr. Scott Morton is the Jay W. Forrester Professor of Management, Emeritus at the MIT Sloan School of Management.

He has most recently been involved with CMI. This is a joint venture between Cambridge University and MIT, funded by the UK's DTI. The program is designed to contribute to improving Britain's performance in the areas of productivity, competitiveness, and entrepreneurship.

Dr. Scott Morton taught and did research at MIT in the areas of Corporate Strategy and the options opened up to businesses by the evolving communications and information technologies.

Scott Morton studied engineering at Glasgow University before moving to the USA and completing his undergraduate education at Carnegie Mellon University. After working in the computer field he obtained his doctorate at the Harvard Business School. He joined the faculty of MIT in 1966, initially in the fields of Accounting and Control Systems. His early work formed the basis of what became known as Decision Support Systems: the use by managers of interactive computer systems to support their decision-making.

Scott Morton served as group head of the Information Systems area at MIT Sloan and was instrumental in the founding of the Center for Information Systems Research (CISR). From 1976-1981 he served as the Deputy Dean of MIT Sloan and in 1981 began researching and teaching in the area of Corporate Strategy. In 1983 he became area head of the Strategy Group. In 1984 he initiated a joint research program with 10 corporations in the UK and US on Management in the 1990s; this resulted in two books published by Oxford University Press. In 1992 Scott Morton became the area head for the Behavioral Policy Sciences Group. From 1995-1999 he was the co-director of a school-wide research initiative, Inventing the Organizations of the 21st Century (The MIT Press). He has authored or co-authored 8 books and numerous articles.

Scott Morton has been involved in founding three companies and is active as an Angel investor. He has previously served as non-executive director on the main boards of: Index Systems Inc; Emhart Corporation; ICL Plc; Sequent Computer Systems; Genrad Corporation, and Merrill Corporation. He was a trustee of the State Street Research and Management Company funds and the Metropolitan Life Series Funds.

His formal "not for profit sector" appointments are: governor of the Handel and Haydn Society; member of the Court of Glasgow University; director, Scottish Institute for Enterprise, and Vice Chairman of the Board of the National Trust for Scotland Foundation.

He is widowed with two children and five grandchildren and shares his time between Boston and his home in Argyll, Scotland.
General Expertise: Angel investing; Competitive strategy; Corporate governance; Corporate strategy and policy; Information systems; Information technology; Startups / Start-ups; Strategic management; Strategic planning; Strategy; Technological innovation; United Kingdom; United States
For more background on this faculty member's research and academic initiatives, please visit the MIT Sloan faculty directory.
Contact Information
Office: E62-423-1
Tel: (617) 253-7175
Fax: (617) 253-2660
E-mail: mssm@mit.edu
Support Staff
Channa Yem
Tel: (617) 324-7519
E-mail: channay@mit.edu