Damon Centola
Assistant Professor of System Dynamics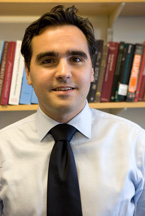 Damon Centola is an Assistant Professor of System Dynamics at the MIT Sloan School of Management.
His research focuses on the diffusion of collective behavior, including social movements, cultural differentiation, and social epidemiology. Centola was a Robert Wood Johnson Scholar in Health Policy at Harvard University, and has been a Visiting Scholar at the Brookings Institution, the Santa Fe Institute, and the Mediterranean Institute for Complex Systems. He was awarded the 2006 American Sociological Association's Award for Outstanding Article in Mathematical Sociology, and his work has been published in the American Journal of Sociology, Physica A, and the Journal of Conflict Resolution.
Centola holds a BA in philosophy from Marlboro College and an MA and PhD in sociology from Cornell University.
General Expertise: Applied math; Healthcare; Nonlinear dynamics
For more background on this faculty member's research and academic initiatives, please visit the MIT Sloan faculty directory.