Anna Costello
Assistant Professor of Accounting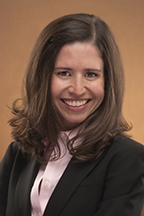 Anna Costello is an Assistant Professor of Accounting at the MIT Sloan School of Management.
Prior to entering academia, Costello worked as an auditor for Deloitte. She specializes in empirical research on the role of accounting information in contracting. Her recent work investigates the impact of financial reporting quality on the mix of monitoring mechanisms used by lenders. She also studies agency problems in supply relationships, showing that buyers and suppliers contract on financial performance to mitigate these problems.
Costello holds a BBA in accounting and an MBA in finance from the University of Notre Dame, and a PhD in accounting from the University of Chicago.
General Expertise: Accounting; Debt contracts; Financial reporting; International tax; Reporting; Supply chain contracts
For more background on this faculty member's research and academic initiatives, please visit the MIT Sloan faculty directory.