Susan Perkins
Visiting Assistant Professor of Organization Studies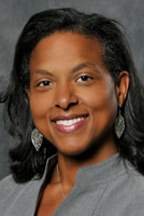 Susan Perkins is the Martin Luther King Visiting Assistant Professor in Organization Studies at the MIT Sloan School of Management.
Perkins is an Assistant Professor of Management and Organizations & International Business and Markets at the Kellogg School of Management. She is an international business strategy scholar whose research focuses on cross-country variations in the institutional environment and their effects on firm performance, strategic responses, alliance formations and broader societal outcomes. At Kellogg, Susan teaches International Business Strategy in Non-Market Environments.
Perkins holds a BBA in marketing from Howard University, an MBA and an MPhil in management, and a PhD in business administration from the Stern School of Business, New York University.
For more background on this faculty member's research and academic initiatives, please visit the MIT Sloan faculty directory.
Contact Information
Office: E62-363
Tel: (617) 324-4996
E-mail: susan_p@mit.edu
---
Podcasts & Video