Erik Loualiche
Assistant Professor of Finance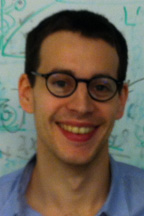 Erik Loualiche is an Assistant Professor of Finance at the MIT Sloan School of Management.
Loualiche's research focuses on asset pricing and macroeconomics. He has taught applied econometrics, macroeconomics, microeconomics, managerial economics, and investments.
Erik received his BSc and MSc in applied mathematics and economics from the École Polytechnique, and his MA and PhD in economics from Northwestern University.
Current Research Focus: Loualiche is currently working on the interaction between industrial organization and asset pricing to understand the cross-section of risk-premia. With co-authors Valentin Haddad (Princeton) and Matthew Plosser (NYFRB), he is also studying the interaction between sources of macroeconomic risk and corporate finance activity.
General Expertise: Asset pricing; Capital market; Investment risk
For more background on this faculty member's research and academic initiatives, please visit the MIT Sloan faculty directory.
Contact Information
Office: E62-633
Tel: (617) 253-6240
E-mail: erikl@mit.edu
Support Staff
Jennifer Alton
Tel: (617) 253-3386
E-mail: jalton@mit.edu