To the incoming Class of 2018 and 2019,
Welcome to MIT Sloan! As your Student Body Co-Presidents, we speak on behalf of the entire school when we say that we can't wait to meet you. Your next few months will be fast-moving and full of exciting opportunities, and we want to help orient you as we're completing the first half of our Sloan experience and you're starting at the first steps of yours.
In many ways, it still seems like it has only been a month since we've been at Sloan, yet the connections and impact that we've made feel more like they've been shaped over a lifetime. As we reflect on our first year here, we are truly appreciative of the community and culture that serve as the mold for developing ourselves as principled and innovative leaders. Our classmates are unique because they are independent, creative, and grounded all at the same time. Although networking is a driving factor for many business school students, the relationships that we build at Sloan transcend the transactional – they are true comraderies. Our pursuit of diversity runs deeper than just a statistic, for we are strengthened by our differences and unique backgrounds, whether they are gender, ethnicity, socioeconomic, program, or something else. These are some of the defining aspects of Sloan's culture.
As you gear up for your next adventure, we want to share with you three pieces of advice (we have many more but tried really hard to keep this succinct):
Set an intention for what you want to take away from Sloan. The Sloan experience is an individual one, and everyone is here for a different reason. You'll soon learn that time is your most valuable asset, and it's important to reflect on how you would like to budget yours. Whether that's setting your goals through a framework, speaking with mentors and second year students, or researching different industries, it's important to have a beacon to guide you through the sea of opportunities at Sloan.
Take risks and explore. No matter who you were in your previous life – whether you were in the military or sitting at a corporate desk, whether you were a junior staff or managed a team of 30, whether you were the life of every happy hour or the wallflower during client meetings – at Sloan, you start with a blank slate. You have two years here where failure is not in your vocabulary and you can go even further outside of your comfort zone than you have before. This may mean organizing a conference about a topic you don't have any experience in, learning a hip-hop dance routine to perform in front of 200 students, or running to be your cohort or program's student government representative (shout out to Sloan Senate!). Whatever it is, you'll have an army of support behind you as you take a new leap, cheer when you succeed, and pick you up to try again should you stumble.
Build your Sloan legacy. "We are not customers. We are a community. Everything we love about Sloan is built by a previous student. Leave a mark and leave it a better place than before," said SK Callanan and Teddy Lee, the Co-Presidents of Class of 2017. You'll soon be introduced to Ask Me Anythings (AMAs), the Yarn, industry-renowned conferences, study tours and treks, and more. These are the things that make our Sloan experience so powerful, and they are all driven by our students, for our students. If there's something you want to change, we challenge you to take a seat at the table with the administration and your fellow classmates and make it better.
Class of 2018 and 2019, we can't wait to see what you'll accomplish here. Welcome to Sloan.
Jennifer Zheng and Avery Beach, Student Body Co-Presidents, MBA 2018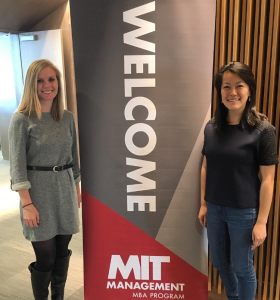 Attend an event to find out how you can join the MIT Sloan Community.