Our study tour included a wildlife safari in Etosha National Park in Namibia. When I saw the schedule, I was less excited than most as I was unsure whether we might harm animals by intruding in a reserve area. I also tend to evaluate activities carefully when I feel like I am buying access that is denied to locals. But, both those apprehensions proved false and I had a lot of fun with an all-women group in Etosha. The safari was not harming the animals and it was open to everyone, regardless of colour of skin or nationality.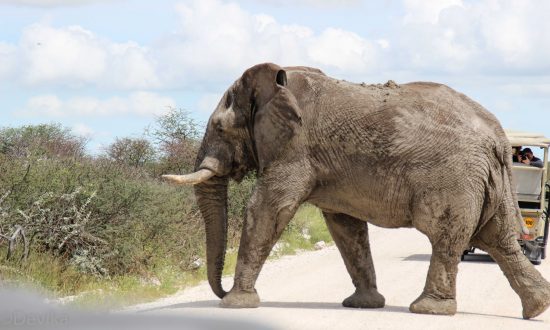 Our trip started at sunrise with spotting of some oryx, kudu and springbok, all of which belong to the antelope family. The biggest of the lot was the wildebeest. The springbok was the tiniest and prettiest with a black stripe separating its white underbelly from the fawn body. But my favorite animals of the trip were zebras and giraffes. Giraffes are unlike any other animal and move with elegance despite the gangly limbs. Zebras love playing around in their herd, tails swishing to ward away flies. Since this was the end of summer, herds hadn't yet returned from migration. So, we saw one or two antelopes at a time, instead of big herds.
Our safari also saw part of the Big 5 – lion, elephant and rhinoceros. An elephant majestically crossed the road in front of us. Our first rhino sighting was from far away. We needed binoculars to find him and would sometimes see a horn or a rump peeking out of the bushes. Later in the day, we got a full sighting in open field near us. In one day, we saw seven rhinos, which even our guides thought was extremely lucky.
After this amazing experience, I next wish to see the migration of herds in Africa and hope to have a 300mm lens to capture the experience.