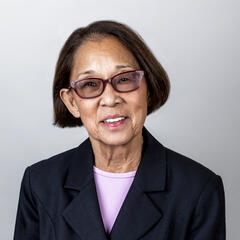 Staff
Eleanor Chin
About
A senior director, Eleanor has been with OIP since its founding. In her current role she administers all aspects of MIT Sloan's collaborative partnerships with three schools in China:  Tsinghua University School of Economics and Management; Fudan University School of Management; and Lingnan (University) College of Sun Yat-sen University. Eleanor organizes and manages MIT faculty visits to China, International Faculty Fellow visits to MIT Sloan, and programs at MIT Sloan for international MBA students. In addition, she maintains our relationships with former partners in China and Korea.
Eleanor has 40+ years of administrative staff experience at MIT Sloan, which has included managing MIT Sloan's partnerships in Singapore and Taiwan. She previously managed Sloan's partnership with Yunnan University School of Business and Tourism Management, including Yunnan's collaboration with the Goldman Sachs 10,000 Women project through the MIT Sloan-Yunnan University Women's Entrepreneur Program. She has been responsible for MIT Sloan's Korea Project with the SKK Graduate School of Business. Previous positions involved assisting with all aspects of the activities for the Master's Program, Doctoral Program, Visiting Fellows Program, and Sloan Fellows Program.
A graduate of Newton College, Eleanor is a native Bostonian.