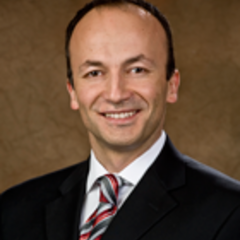 Staff
Özalp Özer
About
Özalp Özer is a Visiting Professor of Operations Management at the MIT Sloan School of Management. He is also Professor of Management at the Naveen Jindal School of Management, University of Texas at Dallas. Previously, Özalp was a faculty member at Columbia University and Stanford University.
His areas of specialty include end-to-end management and coordination of global supply chains, capacity and inventory planning, market timing, distribution channel and logistics management, procurement contract design, retail and pricing management.  Besides scuba diving, he is passionate about working with researchers and practitioners on the next new 'think' that calls for the exciting opportunity to explore, learn, define, solve, and contribute.
Özalp has received the Wickham Skinner Early-Career Research Accomplishments Award from the Production and Operations Management Society  in 2005.  By student vote, he is also the recipient of the Eugene L. Grant Teaching Award at Stanford University in 2003 and 2004, and at Columbia University in 2009.  His articles have appeared in journals such as Management Science, Operations Research, and Manufacturing & Service Operations Management.  He currently serves as an associate editor for all flagship academic journals of his society. He is an active consultant to industry and has consulted companies including Ericsson, General Motors, Hitachi GST, Hewlett Packard, and UPS.
Özalp holds  a BS in industrial engineering from Bilkent University, an MS degree in financial engineering, and MS and PhD degrees in operations research, all from Columbia University.