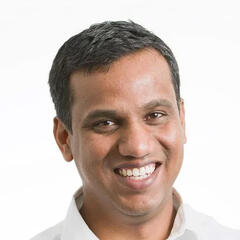 Faculty
Nagarjuna Venna
About
Nagarjuna Venna is a Lecturer at the MIT Sloan School of Management where he teaches classes in Entrepreneurship.
He is the co-founder of BitSight, a security ratings company he co-founded in 2011. BitSight has pioneered a new market category and has grown to become a global organization with over 2,500 customers, 500+ employees, and 400M+ in venture funding. Nagarjuna served as the chief product officer and a board director from 2011 to 2020. Prior to BitSight, he co-founded Saperix, a risk management company, which was acquired by Firemon in 2011.
He holds a Bachelor's in computer science and engineering from National Institute of Technology, Warangal, India and a Master's in engineering and management from MIT.