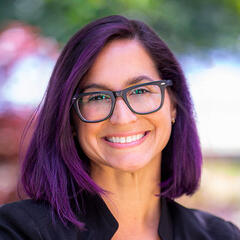 Staff
Georgette Arato
About
Georgette Arato (she/her) is a career advisor for MBA students providing individualized guidance and coaching on identifying, leveraging, communicating, and building their strengths to achieve personal, academic, and career success.
Before joining MIT Sloan, Georgette worked at Simmons University, managing the Simmons Leadership Conference—the longest-running women's leadership forum in the United States—by engaging sponsors, speakers, MBAs, and alums in developing resonant programming for diverse audiences. Georgette also co-led the conference's expansion to Europe for the first time and helped establish the Simmons University Institute for Inclusive Leadership. Previously, Georgette served as Associate Director of Career Services at the Simmons School of Management, advising graduate students and alums of the MBA, Healthcare MBA, and Communications Management programs while leading a broad spectrum of career development programming.
Georgette holds a BA in English from Iowa State University and an MA in Literature from the University of Massachusetts Boston.
Georgette is a working mom who enjoys spending time with family, reading, collecting sea glass, and long-distance running. She is currently training to run the Walt Disney World Marathon Weekend Dopey Challenge for the fourth time (4 days, 48.6 miles) with family and friends.
Born and raised in San Juan, Puerto Rico, Georgette has always been interested in how language shapes experiences and identity. She is fluent in Spanish and English and has studied Italian, Portuguese, and American Sign Language.
Top 5 Clifton Strengths: Learner, Achiever, Connectedness, Input, and Relator