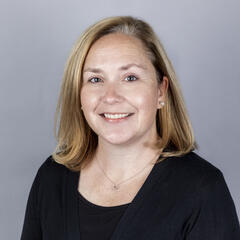 Staff
Kristin Curtis LeClair
About
Kristin Curtis LeClair is the Chief of Staff and Executive Director in the Office of the Dean. In this role, she serves as a strategic partner to the dean and colleagues across MIT Sloan, identifying and managing complex initiatives at the school. She also serves as the Dean's representative and as a liaison between the MIT Sloan Office of the Dean and offices across the Institute. 
Kristin has worked at MIT Sloan since 2005 in a succession of positions within the Office of External Relations, most recently as the Senior Campaign Communications Strategist (2014-2017). Prior to joining MIT Sloan, Kristin worked at Columbia University and Harvard University.
She holds a BA in art history from Wellesley College and a EdM from the Harvard University Graduate School of Education.