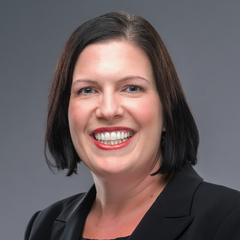 Staff
Kristin Zecca
About
Kristin is a director of Executive Programs, an executive coach, and a Lecturer in Work and Organization Studies at MIT Sloan School of Management. In each of her roles, Kristin collaborates extensively with C-suite and senior leaders across myriad industries to develop leadership programs, solve critical business challenges, and implement change management strategies.
As an executive coach and lecturer, Kristin inspires leaders to prepare for the future of work by incorporating coaching techniques into their leadership style and establishing their own authentic and distinct leadership signature.
As a director of Executive Programs, Kristin works closely with MIT faculty to design transformational leadership programs that help organizations and individuals build strategic capability through the practical application of management learnings to real business challenges and opportunities. She directs custom executive education programs for global organizations across a broad range of industries including technology, urban development, manufacturing, financial services, and consumer goods.
Kristin has 20+ years of experience creating transformative learning engagements focused on leadership, technology, and entrepreneurship across the world. Prior to joining MIT, Kristin was the director of Programs and Strategic Partnerships at the Center for Women & Enterprise where she led strategy and teams delivering entrepreneurial training programs and mentoring services to 5000 clients across the New England Region. Hired as member of a turnaround team, she transformed operations, expanded organizational capacity, and launched digital learning for the organization.
Kristin began her corporate career in sales at Course Technology, a global educational publishing company with a mission of helping people teach and learn about technology. She later led market development for the organization.
Kristin has a BA in French from Wellesley College and an MBA from Simmons College with focus in organizational development. She completed her executive coaching training at iPEC, the Institute for Excellence in Coach Training.