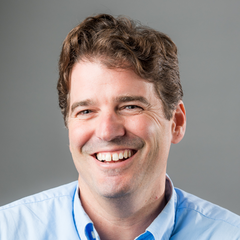 Staff
Scott Alessandro
About
I am the Director of Undergraduate Education, which means I help students get the best education possible at MIT Sloan and help to make sure the curriculum gives them that opportunity.
I was born in the Bronx, NY (but am a Mets fan and do not like the Yankees), and grew up in upstate NY (but not real upstate NY as those from north of Albany like to remind me) in the Catskills region not far from West Point.  I lived and worked in New Jersey, then outside of Philly, and now here in Boston/Cambridge (work) and Quincy (live. Go South Shore)!  I prefer the East Coast because the ocean is on the correct side of my bed.  I love sports (both playing and watching--especially soccer, football and basketball); reading (everything from fantasy novels to Jane Austen to random nonfiction); hiking/camping; fishing (though there is never enough time for it), and going to county fairs.  In another life, I would like to be a librarian by day and rodeo cowboy at night!  As for music, I like Top 40 and Country.
I did my undergrad at Cornell University (Human Development and Family Studies) and received a Master's from Temple University in Educational Psychology while I worked there as Assistant Director of the Honors Program.
I am also currently the President of the Quincy Citywide Parents Council, so if you want to talk about Quincy schools, your school, your kids' schools, am always interested.