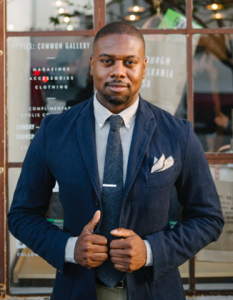 A recent report from the Global Entrepreneurship Monitor (GEM) found that 27 million working-age Americans—nearly 14 percent—are starting or running new businesses.
Impressive though that number is, says Mark Anthony Thomas, SF '14, the uptick leaves many Americans behind.
Senior Vice President of Partnerships at the New York City Economic Development Corporation, Thomas says that while high-tech startups produce innumerable benefits, they tend to create jobs for college graduates. "In the United States," he notes, "universities have sophisticated entrepreneurship programs that help students bring their new ideas to market." But entrepreneurship opportunities, Thomas says, should not be limited to those moving along an academic track.
Outside the digital marketplace, Thomas says, relatively few American-born citizens appear to consider starting a new enterprise. In fact, foreign-born Americans outpace those born in the U.S. in developing new businesses.
Engines that propel people out of poverty
Thomas believes that government enterprise engines like the one he helps to lead can provide ladders out of poverty. "Our job as an enterprise engine is to make sure that the new crop of startups taking root in the city delivers jobs for a wide range of skill levels." Toward that end, he is recruiting international entrepreneurs to create a broad variety of jobs in a diverse array of industries.
Thomas is confident that New York City is on its way to becoming an international zone of entrepreneurship, and one of the benefits of that thriving enterprise environment will be to adjust the imbalance within the new enterprise realm. Key to achieving that, he says, is to "raise the floor," delivering universally accessible educational and training opportunities to the unskilled workforce.
Equally important is encouraging the growth of businesses that can employ traditionally unskilled labor. "When we think of entrepreneurship, we often think tech, but brick and mortar startups are just as important. The pizza parlor and the pharmacy franchise are more apt to hire the unemployed than the brainy software developer."
Thomas wants to disrupt preconceived notions about entrepreneurship. "Let's celebrate and support the pretzel vendor alongside the software innovator. Our economy needs both. Let's take what we've learned from the high-tech sphere and expand it so that everyone is included in the American entrepreneurial success story."
Read more stories about government entrepreneurship engines