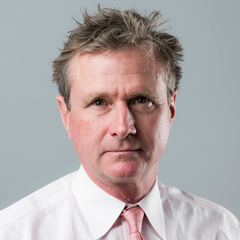 Faculty
Scott Keating
About
Scott Keating is a Senior Lecturer in Accounting at the MIT Sloan School of Management.
Keating's research focuses on understanding the internal workings of large and complex organizations. He is specifically interested in the role of internal accounting practices—such as accounting-based performance measurement and compensation programs, transfer pricing policies, costing systems, and cost allocation practices—in regulating organizational activities. Keating teaches an undergraduate course in financial accounting and a second-year MBA elective in managerial accounting. 
Prior to joining MIT Sloan, Keating was on the faculty of the University of Chicago Booth Graduate School of Business and the University of Rochester Simon School of Business, and also taught at the London Business School. He has consulted to and taught at numerous companies, including Abbott Laboratories, Armstrong World Industries, Brooks Brothers, Deutsche Telekom, Procter & Gamble, U.S. Gypsum, and Wal-Mart.
Keating holds an LLB and a BSc from McGill University, an MBA from the Tuck School at Dartmouth College, and a DBA from Harvard University.