Mozaffar Khan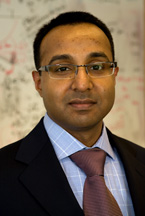 Mozaffar Khan has broad interests in Accounting and Financial Economics. His recent research areas include long-short equity investment strategies, short selling, price pressure, mutual fund trading, equity issuances and repurchases, equity analyst informativeness and accounting conservatism. His areas of expertise include Capital Markets, Short Selling, Investments, Valuation, Risk, Asset Pricing, and Financial Accounting and Reporting. Professor Khan has been invited to present his research at numerous universities, including leading universities in the U.S., U.K. and Canada.
General Expertise: Accounting, domestic; Accounting, international; Analysts forecasts; Asset management and pricing; Bankruptcy; Capital market; Corporate finance; Corporate governance; Disclosure; Dividend policy; Earnings management; Earnings manipulations; Economic crisis; Economy, current conditions; Education; Equities; Financial reporting; Financial services; Financial statement analysis; Hedge funds; Investment risk; Investment strategies; Middle East; Mutual funds; Pakistan; Security prices; Stock market; Valuation; Wall Street
For more background on this faculty member's research and academic initiatives, please visit the MIT Sloan faculty directory.
Contact Information
Office: E52-343A
Tel: (617) 252-1131
Fax: (617) 253-0603
E-mail: mkhan@mit.edu
Support Staff
Patrick Brown
Tel: (617) 324-6012
E-mail: pxbrown@mit.edu