Michael Grubb
Assistant Professor of Applied Economics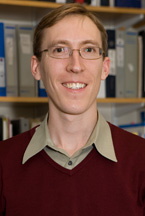 Michael Grubb is an Assistant Professor of Applied Economics at the MIT Sloan School of Management.
Grubb's research interests are in applied microeconomic theory, industrial organization, and behavioral economics. His recent research topics include: optimal pricing to overconfident consumers, reputational concerns regarding disclosure, and tax-advantaged employee benefits. He formerly worked with the World Bank, Oliver Wyman and Company, and Brand Equity Ventures.
Grubb holds a BS in economics and a BS in engineering from the University of Pennsylvania, an MPhil in economics from the University of Oxford, and a PhD in economic analysis and policy from the Graduate School of Business, Stanford University.
General Expertise: Applied economics; Disclosure; Economics; Industrial organization; Managerial economics; Microeconomics; Pricing
For more background on this faculty member's research and academic initiatives, please visit the MIT Sloan faculty directory.
Contact Information
Office: E62-519
Tel: (617) 324-3895
Fax: (617) 258-6786
E-mail: mgrubb@mit.edu
Support Staff
Ariel Leitao
Tel: (617) 715-4178
E-mail: aleitao@mit.edu
---
Latest News