Itai Ashlagi
Assistant Professor of Operations Management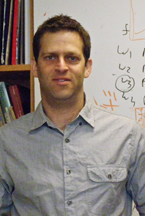 Itai Ashlagi is an Assistant Professor of Operations Management at the Sloan School of Management.
He is interested in game theory, mechanism design, and market design. In particular he is interested in both developing and applying economic and optimization/cs tools for designing better marketplaces. Ashlagi is the recipient of the outstanding paper award in the ACM conference of Electronic Commerce 2009. Before coming to MIT he spent two years as a postdoctoral researcher at Harvard Business School. He was also a consultant researcher in 2010 for Microsoft Research in New England.
Ashlagi holds a BA in mathematics and computer science from Haifa University, and an MSc and PhD in operations research from Technion-Israel Institute of Technology.
For more background on this faculty member's research and academic initiatives, please visit the MIT Sloan faculty directory.