Joao Granja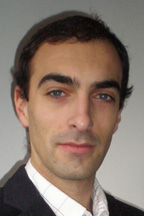 João Granja is an Assistant Professor of Accounting at the MIT Sloan School of Management.
His research interests include analyzing the relationship between disclosure and financial development with a focus on examining the way accounting information affects the stability and development of financial institutions. João has consulted on several projects that involved the use of financial statements to assess the efficiency of regulated industries in Portugal. He has taught financial accounting, corporate finance, and microeconomics. He is also an ad hoc reviewer for the Journal of Accounting Research.
João holds an undergraduate degree in economics from the Universidade do Porto, an MSc in economics from the Universidade Católica Portuguesa (Lisbon), and a PhD in accounting from the University of Chicago Booth School of Business.
General Expertise: Accounting; Bank capital; Bank regulation; Banking; Banking industry; Banking management; Banking operations and policy; Banking regulation; Bankruptcy; Bankruptcy; Competition; Corporate disclosure practices; Corporate finance; Disclosure; Disclosure; European Union (EU); Financial regulation; Governmental financial institutions; Regulation; Regulation and policy; Regulatory bodies; United States
For more background on this faculty member's research and academic initiatives, please visit the MIT Sloan faculty directory.