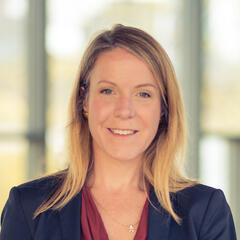 Faculty
Bethany Patten
About
Bethany Patten is a Lecturer and Senior Associate Director of the Sustainability Initiative at the MIT Sloan School of Management. Her interests intersect at the crossroads of corporate and public policy, with a focus on environmental and social issues. She focuses on applying business practice theory to solve real-world challenges.
As an experienced operational leader, Bethany develops relationships with public and private sector organizations, identifying the sustainability-related challenges they face. Through those engagements, she develops learning curriculum for master's-levels students, and teaches course sessions focused on problem formulation, continuous improvement, and change management for sustainability.
She is responsible for the growth and quality of MIT Sloan's Sustainability Certificate and other programming for students pursuing careers of environmental and social impact. She leads the Sustainability Initiative's efforts to accelerate the move toward evidence-based climate policy. Bethany has been an active contributor across MIT, where she serves on the Vice President for Research's Climate Action Advisory Committee, has directed the MIT Sustainability Summit, and has led several projects on campus aimed at reducing waste.
Outside of MIT, Bethany serves as president of Boston's Bay Village Neighborhood Association, is a member of the Boston Chamber of Commerce Alumni Advisory Group, and is board member and treasurer for the Environmental League of Massachusetts. Prior to MIT, Bethany worked for more than a decade in business and financial operations in the book publishing industry.