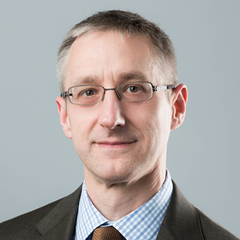 Faculty
Christopher F. Noe
About
Christopher Noe is a Senior Lecturer in Accounting at the Sloan School of Management.
Noe specializes in the fields of financial accounting and corporate finance. Immediately prior to joining the faculty at MIT Sloan, Noe was a vice president at Charles River Associates, an economics consulting firm. His work at CRA included valuation of business enterprises, financial securities, and specific assets/liabilities; financial statement analysis; examination of accounting restatements; solvency assessment; and damages estimation.  Noe has published on topics such as voluntary disclosures and insider transactions, analyst specialization and stock breakups, and stock return volatility.
Noe holds a BA in economics from Emory University, an MS in applied economics and a PhD in business administration from the University of Rochester.
Publications
"Bausch & Lomb, Inc. (A)."
Gregory Miller and Christopher Noe. In Harvard Business School Case 9-101-010, Cambridge, MA: August 2000.
"Kmart Corp."
Christopher Noe. In Harvard Business School Case 9-199-017, Cambridge, MA: May 1999.
Load More
Media Highlights