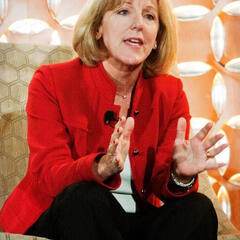 Faculty
Kirk Arnold
About
Kirk Arnold is an experienced CEO and board member, with a demonstrated history of leadership in the technology industry. Skilled in strategy, sales, customer relationship management, and operations, Kirk has a passion for technologies that transform businesses and markets.
Currently, Kirk is actively engaged as an advisor, board member and teacher. She is an Executive-in-Residence at General Catalyst Ventures, where she works with management teams to help scale and drive growth. In that capacity, she serves on the Board of The Predictive Index, the leading provider of talent optimization software. In addition, she is an independent member of the boards of Ingersoll Rand, Trane Technologies, and Thomson Reuters Corp.  Kirk is involved with a number of non-profit organizations, including the Massachusetts Technology Leadership Council, where she is a trustee  and member of the Executive Committee, and the UP Education Network, where she serves on the Board. In addition, she is a Senior Lecturer at the MIT Sloan School of Management, and an advisor to the Trust Center for MIT Entrepreneurship.
Kirk spent over 30 years as an executive in the technology industry, most recently as the CEO of Data Intensity, a cloud-based applications and analytics provider. Her prior CEO experience includes CEO and president of Keane, Inc., a publicly traded, billion-dollar global technology company and CEO and founder of NerveWire Inc. In addition, she has held senior leadership positions at Avid, CSC, Fidelity Investments and IBM.