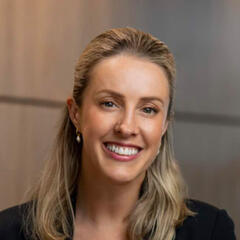 Staff
Georgie Erica Milliner Skipper
About
Georgie Skipper is an International Faculty Fellow and Visiting Scholar at MIT Sloan School of Management. She is also a Fulbright Scholar. 
Georgie's research focuses on how to accelerate investment from the United States and Australia into the Indo-Pacific region. The research aims to map current and historic investment flows and overlay geopolitical, macroeconomic, and systems dynamics analyses to better understand investor and business behaviour and decision making in the region. It draws on qualitative interviews with the business, investment, government, diplomatic, and MIT communities to explore perceptions of risk in the region and map the barriers to actions experienced by each actor in the ecosystem. The research focuses on private equity and venture capital including models to incentivise investment through instruments, investment vehicles, and policy settings. The objective is to create a framework that enables investors, businesses and governments navigate opportunities in these markets and accelerate investment into the region.
Georgie is an international relations and geostrategy expert. She has helped shape foreign policy, trade, and investment outcomes in both the private and public sector across the United States, Asia-Pacific, UK, Middle East, and Europe. Georgie advises global business and government leaders on geostrategic risks and opportunities, and is a passionate advocate for impact investment. 
For over half a decade, Georgie worked in the Australian Government as the senior adviser to Foreign Minister of Australia, the Honourable Julie Bishop.  She was the principal adviser on the United States bilateral relationship, including the Australia-US mutual economic and national security activities and interests in the Indo-Pacific region. 
Most recently, Georgie was in the executive leadership of Sun Cable, working at the forefront of transforming renewable energy provision in the Indo-Pacific. Sun Cable is building an integrated system including infrastructure and software to provide affordable, dispatchable, and reliable green energy into Australia and South East Asia. Georgie worked across the renewable energy supply chain with stakeholders including suppliers, manufactures, and export credit agencies, to inform the company' renewable energy supply chain strategy. 
She is one of the founding members of the Green Grids Initiative, established at COP26 to support transformative energy transition opportunities through grid interconnection and supply chain resilience. She is also a member of the GGI Asia Pacific and Investment Working Groups. 
Georgie holds a Bachelor of international relations (first class honours) from the University of Sydney and completed her exchange at Malmö University in Sweden.