MIT Sloan Sustainability Initiative
Building Food Systems for the Future
Sarah Nolet is driving change in the agtech ecosystem.
A globally recognized food systems expert, Sarah Nolet has used the skills, experiences, and networks she gained at MIT, and in the Sustainability Certificate program, to help build the sustainable agtech industry in Australia.
Technology is disrupting agriculture, but the agriculture and agtech worlds are still not well connected or mutually understood. This is the main reason Sarah launched her first business, AgThentic. The firm provides strategy consulting services to investors, businesses, and government, and offers growth advisory support to high-potential agtech startups. She and her team bring the best practices of new venture development and technology to agriculture—helping ag industry experts think more like entrepreneurs, and helping agtech entrepreneurs connect with the agriculture industry. 
"Diffusion of new ideas and practices happens slowly, and bridging the gap between agriculture and consumers will not happen quickly or painlessly. But there's too much at stake not to keep trying," Sarah says.  
The second company Sarah co-founded, Tenacious Ventures, is Australia's first dedicated agrifood tech venture capital firm.  She and her Tenacious partners are supporting early-stage innovators transforming the agrifood supply chain, building a sustainable future for food and agriculture. 
At MIT, Sarah earned a master's in System Engineering and Management and a Sustainability Certificate. As a student, she ran the Food and Agriculture Club, co-founded the MIT-Rabobank Food and Agribusiness Innovation Prize, co-led the MIT Sustainability Summit, and wrote her thesis on "Accelerating Sustainability-Oriented Innovations in Agribusiness." She also served as the food systems project coordinator for the Sustainability Initiative and spent a summer in Iowa on a consulting project with a wholesaler of spices and herbs. 
A native of California originally trained in computer science and human factors engineering, Sarah started her career as a systems engineer in the defense industry. But a year living and working on farms in rural Argentina radically changed her trajectory. As Sarah harvested grapes for twelve dollars a day, did the books for an organic fruit and vegetable farm, and managed a goat dairy, she realized agriculture was an industry ripe for more innovation and technology, and wanted to serve as a catalyst for that change.
"It's been an amazing experience, and it's been hard," Sarah says about launching a business. "I've messed some things up and gotten some things right. Starting a company is not something I thought I would do. It happened a bit organically, but I wouldn't change it for the world."
Explore insights from Sarah by checking out her blog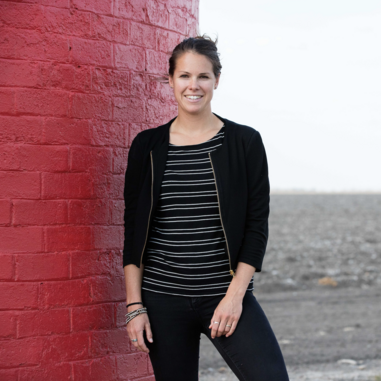 ---