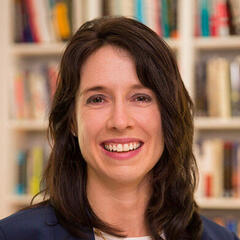 Faculty
Kate W. Isaacs
About
Kate Isaacs advises senior leaders and teams on organizational strategy and innovation-focused stakeholder partnerships that generate economic and social value.
She draws on design thinking, system dynamics, and developmental psychology to help leaders create conditions for collective intelligence, agile performance, and transformative change. She is a Shadow Work coach who focuses on the positive potential in people and organizations—noticing and expanding what is working, and transforming obstacles and habits that block people's natural orientation towards creativity, growth, and health.
Kate is a Lecturer at the MIT Sloan Leadership Center where she teaches courses on Nimble Leadership and Inclusive Innovation. She is an Executive Fellow at the Center for Higher Ambition Leadership, where she and colleagues run CEOs Leading Local, a network of business coalitions that work to accelerate positive social and economic change at the local level
She writes and speaks about leadership, innovation, and sustainability for publications including the Harvard Business Review, strategy+business, Chief Executive, The Hill, and the Academy of Management Journal.
​Kate holds a PhD in organization studies from the MIT Sloan School of Management, an MS degree in technology and policy from the MIT Engineering Systems Division, an MS degree in conscious evolution from the Graduate Institute, and a BS in biology from the Oakland University Honors College.
​She lives in Concord, Massachusetts with her family, and loves running, biking, swimming, yoga, skiing, gardening, and working on cars. She occasionally commutes to Colorado in the winter, where she finds no greater joy than telemark skiing in fresh Rocky Mountain powder.