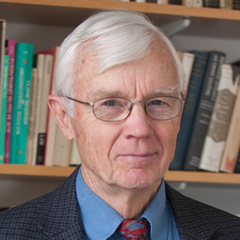 Emeritus | Faculty
Robert B. McKersie
About
Academic Groups
Academic Area
Robert McKersie is Professor Emeritus of Management at the MIT Sloan School of Management.
McKersie is an expert source on industrial and labor relations with a focus on bargaining. He researches strategies being pursued by different industries to bring about more effective organizational changes. McKersie is the author of A Decisive Decade: An Insider's View of the Chicago Civil Rights Movement (SIU Press, 2013), where his participation as a white activist for black rights presented a firsthand account of the debates, boycotts, marches, and negotiations that impacted race relations in Chicago and the United States during the 1960s. He is also the coauthor of A Behavioral Theory of Labor Negotiations (ILR Press,1991), Strategic Negotiations (Harvard Business School Press,1995), The Transformation of American Industrial Relations (Basic Books,1986), and Pay, Productivity, and Collective Bargaining (Macmillan,1983). 
McKersie holds an SB in electrical engineering from the University of Pennsylvania and an MBA and a DBA from Harvard University. 
Honors
Bob McKersie cited for "landmark contribution to industrial relations"
Robert B. McKersie is the recipient of the 2008 Cushing/Gavin Award from the Boston Labor Guild
Publications
Kochan, Thomas A., Adrienne Eaton, Robert McKersie and Paul Adler. Ithaca, NY: Cornell University Press, 2009.
McKersie, Robert, Theresa Sharpe, Thomas A. Kochan, Adrienne Eaton, George Strauss and Marty Morgenstern. Industrial Relations Vol. 47, No. 1 (2008): 66-96.
"Out of the Ashes: Building an Effective Labor Relations System in Airlines."
Kochan, Thomas A., Andrew Von Nordenflycht, Robert McKersie and Jody Hoffer Gittell. Perspectives on Work (2004).
Transforming workplaces : an interview with Robert B. McKersie. Kingston, Ont: IRC Press, 1996.
McKersie, Robert. 1996.
Cutcher-Gershenfeld, Joel, Robert B. McKersie and Richard E. Walton. Kalamazoo, MI: W.E. Upjohn Institute for Employment Research, 1995.
"Strategic Negotiations : A Theory of Change in Labor-Management Relations. Boston, MA: Harvard Business School Press, 1994."
McKersie, Robert. (1994).
Load More