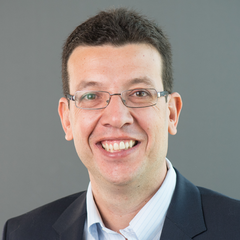 Faculty
Rodrigo Verdi
About
Academic Groups
Academic Area
Rodrigo Verdi is the Nanyang Technological University Professor of Accounting at the MIT Sloan School of Management.
He is currently a senior editor at the Journal of Accounting Research.
Verdi has broad interest in capital markets research in accounting and finance. His past research investigates the economic consequences of financial reporting quality to investment efficiency and to the cost of capital. He also has studied the interaction between accounting information, voluntary disclosure, and market efficiency. Overall, Verdi's research provides insights into the role of accounting information in corporate finance decisions and in capital markets behavior. His research has been published in The Accounting Review, Journal of Accounting Research, Journal of Accounting and Economics, and Journal of Financial Economics. His research has also received the Distinguished Contributions and Best Paper Award recognitions by the American Accounting Association. Earlier, Verdi served as an editor at The Accounting Review and an associate editor at Management Science.
Verdi holds a PhD from the University of Pennsylvania.
Honors
Rodrigo Verdi receives American Accounting Association Award