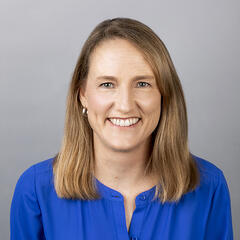 Faculty
Kate Kellogg
About
Academic Groups
Academic Area
Kate Kellogg is the David J. McGrath jr (1959) Professor of Management and Innovation and a Professor of Business Administration in the Work and Organization Studies Department at the MIT Sloan School of Management.
Kellogg teaches, researches, and writes about organizational change, institutional change, and new models of work and employment. Before coming to MIT, she spent six years in management consulting at Bain & Company and Health Advances, and several years as vice president of sales and marketing for the Baltimore/Washington American Red Cross.
Kate's book, Challenging Operations: Medical Reform and Resistance in Surgery, University of Chicago Press, 2011, is the winner of the Max Weber Award from the Organizations, Occupations, and Work section and the winner of the Sociology of Law Biannual Distinguished Book Award from the Law section of the American Sociological Association.
She is also recipient of the Best Published Paper Award from the Organization and Management Theory (OMT) division of the Academy of Management. Kate's winning paper, "Operating Room: Relational Spaces and Microinstitutional Change in Surgery," appeared in the November 2009 issue of the American Journal of Sociology.
She received her BA in biology and psychology from Dartmouth College, her MBA from Harvard Business School, and her PhD in management from the MIT Sloan School of Management.
Research Interests: Organizational Change, Institutional Change, Professions, Interdisciplinary Collaboration, Healthcare, People Analytics, Future of Work
Honors
Kate Kellogg's book wins Max Weber award
Katherine Kellogg is the recipient of the first annual Best Published Paper Award from the Organization and Management Theory (OMT) division of the Academy of Management