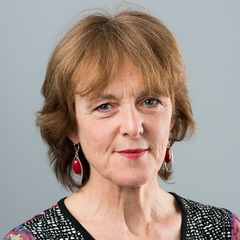 Faculty
Sinéad O'Flanagan
About
Sinead O'Flanagan is a Senior Lecturer at MIT Sloan School of Management. 
Her research and teaching interests include leadership, socioeconomic sustainability, organizational transformation and systems thinking. O'Flanagan advises on sustainable business policy and strategy, executive leadership development, organizational transformation, and experiential teaching pedagogies.
She co-designed MIT's flagship action learning, leadership, and business-sustainability course, Leadership Lab (L-Lab) in 2008. As a teaching team member, O'Flanagan is responsible for integrating field-based project work with the theoretical course work, and ensuring effective implementation of the resulting collaborative projects. The course engages external organizations—examining the complex global issues of leading sustainable businesses—using systems thinking, stakeholder engagement, and experiential practice. Building on this work, she has advised and collaborated with multinational organizations, NGOs, and governmental groups across five continents on issues of socioeconomic sustainability.
In her research, O'Flanagan studies leaders' learning experiences, and explores how leadership learning can be enhanced in environments where uncertainty prevails. She uses longitudinal qualitative data to examine group dynamics in settings of uncertainty, examining how this shapes individual choices and actions. In her teaching, she uses systems-thinking and high-impact experience based teaching pedagogies to enhance learning outcomes. Her focus is on developing an individual's capacity to critically examine their willingness to step outside their habitual ways of leading, learning, and operating, to consider an expanded set of options.
Previously based in Silicon Valley CA and London, UK, O'Flanagan held executive management positions and consulted with companies, working on leadership and major organizational transformation. She is a current serving board member for Ireland's Higher Education Authority (HEA), accountable for national developments in the higher education sector.
She holds a PhD in strategy & management, in leadership studies, from the Norwegian School of Economics (NHH). During her doctoral studies, she was a research fellow at Harvard Kennedy School's Center for Public Leadership where she conducted leadership research. She holds an MS in management of technology from the MIT Sloan School of Management, and a BSc (hons.) in applied physics from the National University of Ireland (NUI) Galway.