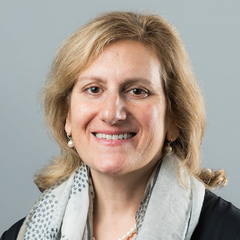 Faculty
Cathy Louise Iacobo
About
Catherine (Cathy) Iacobo is a Lecturer in the Global Economics and Management Group at the MIT Sloan School of Management, and serves as a faculty mentor for the Global Entrepreneurship Lab (G-Lab), Healthcare Lab (H-Lab), and China/India Lab.
Cathy is a global operations executive with 30-plus years of experience that span services, supply chain, engineering, manufacturing, product development, marketing and sales operations, first at IBM and then at Lexmark International. Cathy has a track record of building, mentoring, and leading teams that create value for customers and corporate shareholders. She has considerable international experience including managing global services operations and an overseas assignment managing EMEA (Europe/Middle East/Africa) supply chain operations.
Cathy has been a dedicated and effective mentor throughout her career. She serves as a volunteer mentor at MIT's Venture Mentoring Service (VMS). MIT's VMS supports entrepreneurial activity connected to the MIT community, providing guidance and support to young enterprises attempting to bring innovative new products or services to the marketplace.
Cathy holds a BS degree in mechanical engineering from Duke University and an MS degree in management of technology from the MIT Sloan School of Management.