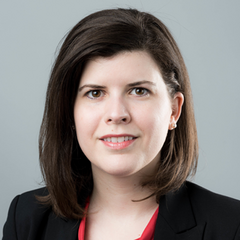 Faculty
Erin L. Scott
About🔗
Academic Groups
Academic Area
Erin L Scott is a Senior Lecturer in Technological Innovation, Entrepreneurship, and Strategic Management at the MIT Sloan School of Management.  
Scott's work focuses on uncertainty and strategic development in early-stage ventures. Most recently, her work was featured in the Harvard Business Review and Management Science. At MIT Sloan, she teaches Entrepreneurial Founding & Teams (MBA), Entrepreneurial Strategy (EMBA/Sloan Fellows), as well as assorted MBA and Sloan Fellows innovation and strategy courses. In addition, Scott mentors MIT startups and consults for ventures within the broader ecosystem.Scott holds a holds a BE and an MBA-MS in biomedical engineering from Vanderbilt University and Washington University in St. Louis, respectively. A recipient of the Kauffman Dissertation Fellowship, she earned her PhD in strategy from Washington University in St. Louis. Scott then completed a postdoctoral fellowship in the National Bureau of Economic Research's Innovation Policy and the Economy Group. She began her academic career at the National University of Singapore. 
Publications🔗
Scott, Erin L., Pian Scott, and Roman M. Lubynsky. Management Science. Forthcoming.
Gans, Joshua, Erin L Scott, and Scott Stern. Harvard Business Review, May 2018.
Scott, Erin L., and Pian Shu. American Economic Review: Papers and Proceedings Vol. 107, No. 5 (2017): 308-311. Download Paper.