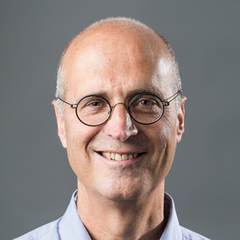 Faculty
Hiram Samel
About
Hiram Samel is a Senior Lecturer in Global Economics and Management at MIT Sloan, where he teaches global strategy and GO Lab. Prior to returning to Sloan, he was at the University of Oxford where he was an Associate Professor of International Business at the Saïd Business School and a Fellow of Lady Margaret Hall. His research draws on multiple disciplines including comparative political economy, technology strategy, the economics of innovation, and labor studies.
Hiram's early work looked at how firms strategically manage demand uncertainty in emerging economies, and the impact these strategies have on social and economic development. He coauthored a book on ethical consumption with four colleagues entitled Looking behind the Label: Global Industries and the Conscientious Consumer (Indiana University Press, 2015), which examines whether social justice, as espoused by voluntary, private systems of regulation such as Fairtrade, the Forest Stewardship Council (FSC) and others, can be achieved through market mechanisms.
His research, with colleagues from MIT and Brown, on labor standards in the global electronics industry, demonstrates how retail concentration, product proliferation, and demand volatility can help explain the persistent problem of long working hours seen in the production networks of leading consumer electronics and computer makers. This research was published in Regulation and Governance and more recently in Studies in Comparative International Development. It has also been featured in The Economist and The New Yorker.
Hiram's work on the PIE (Production in the Innovation Economy) Commission, in conjunction with other colleagues at MIT, on the process and pathways American entrepreneurial firms take in scaling novel production-related technologies attracted the interest of US policymakers and is highlighted in two books from the MIT Press as well as an article in Mechanical Engineering. While a $10 billion public-private matched fund for manufacturing scale-ups based on this research and introduced into the 2016 U.S. Budget was never enacted, the research helped foreshadow the rise of economic nationalism in the global technology sector. His current book project examines how societies and markets apportion risk in environments characterized by a high degree of uncertainty.
Hiram has given talks to policymakers on such varied subjects as the institutional challenges of building entrepreneurial ecosystems in Abu Dhabi and Korea, and to real estate professionals on populism and the growing politics of place in the United Kingdom. His areas of expertise include: global strategy and entrepreneurship; populism, economic nationalism and trade; innovation and organizational design in uncertain environments; technological upgrading in the developmental state; the global division of innovative labor; labor market institutions; voluntary, private regulation; ethical consumption; and family business (next generation entrepreneurship).
Prior to starting his PhD program, Hiram was an entrepreneur, building and managing medium-sized companies that operated in 20 countries. In particular, he has had extensive experience in helping companies build technological and organizational capabilities in a number of emerging economies. He is an investor in and director of a variety of early-stage companies. He is also a trustee of various nonprofit organizations.
He received his AB from Brown University in history, magna cum laude, in 1982, and SM (2006) and PhD (2013) in management from MIT Sloan, where he was a Beyster Fellow and a Ford-MIT Energy Fellow.
Publications
"Marching in the Opposite Direction: Exploiting Volatility as Strategy."
Samel, Hiram, MIT Sloan Working Paper 6218-20. Cambridge, MA: MIT Sloan School of Management, 2020.
"The New Logic of Global Strategy."
Samel, Hiram, and Eric Thun, MIT Sloan Working Paper 6217-20. Cambridge, MA: MIT Sloan School of Management, 2020.
"Book Review."
Samel, Hiram. Review of The Third Globalization: Can Wealthy Nations Stay Rick in the Twenty-First Century?, by Dan Bresnitz and John Zysman (Eds.). ILR Review, October 2015.
"Learning by Building: Complementary Assets and the Migration of Capabilities in U.S. Innovative Firms."
Reynolds, Elizabeth B., Hiram Samel, and Joyce Lawrence. In Production in the Innovation Economy, edited by Rachel Wellhausen and Richard M. Locke, 81-108. Cambridge, MA: MIT Press, 2015.
Load More