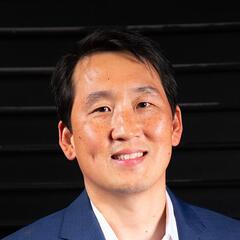 Faculty
James C. Rhee
About
As impact investor, CEO, and educator, James Rhee empowers people, brands, and organizations to fulfill their true potential by marrying capital with purpose and truth across multiple systems. He is an award-winning entrepreneur and thought leader on such topics as multi-dimensional transformation, the intersection of capital and race/gender, and values-based investing and leadership. James has achieved success within multiple industries and communities, and he leverages these connections and learnings to identify and accelerate opportunities for systems change by forging unusual alliances amongst seemingly disparate ideas and peoples. The story of the whys and the hows of the remarkable transformation of Ashley Stewart under his leadership as chairman and CEO (2013-2020) has served as proof to millions of people, as well as the world's leading businesses and organizations, that one can do better by being better.
James has dedicated his life to making knowledge, opportunity and capital accessible to all. He is currently shaping the arc of leadership through his role as Senior Lecturer at both MIT Sloan School of Management and Duke Law School, as well as his roles as council member of JP Morgan Chase Advancing Black Pathways, member of the Governing Committee of the CEO Action for Racial Equity and board director of Conscious Capitalism. His lectures on Money, Life, and Joy marry capitalism with ethics and neuropsychology and offer listeners a blueprint on how to drive dramatic transformation through the delicate interplay of soul and brand, servant leadership, diversity, and people-centered technology. He is a client of United Talent Agencies and is working on a book while exploring the future intersection of wealth and education through a venture called Red Helicopter.
The unprecedented transformation of Ashley Stewart is proof of how trust and joy, grounded in math and amplified through digital excellence, can overcome impossible odds and fuel individual and enterprise-wide innovation. It is a reminder of the power of ecosystems and the extraordinary of the ordinary, as well as a commentary on a potential way forward for the co-existence of humanism, capitalism, and technology. At its core, it is also the story of an unlikely friendship between a first generation Asian-American private equity investor (who raised his hand to become the self-described "least qualified CEO") and a predominantly Black female employee group who placed their mutual trust in each other, learned from one another, and then proceeded to quietly shock the world.
His inspirational story has been featured in media outlets such as the Good Business Issue of Bloomberg BusinessWeek, Harvard Business Review, Boston Globe, Washington Post, Wall Street Journal, CNN, Thrive Global, USA Today, Inc. Magazine, Forbes, Women's Wear Daily, Morgan Stanley's Access and Opportunity Podcast, ABC News, and the Huffington Post.  He has provided the keynote lecture and has lead symposiums at the world's leading companies and gatherings.
James is a regional winner of the E&Y Entrepreneur of the Year Award, the winner of one of five 2016 Power Player Awards granted by the National Retail Federation, and the recipient of the 2017 Black Retail Action Group Business Achievement Award, the 2018 Temple Fox School of Business Information Technology Innovator Award, the 2018 Essex County Urban League Centennial William M. Ashby Award for community building, and a 2019 One To World Fulbright Award. He is a former member of the board of the National Retail Federation, where he served as Chairman of the Innovation Advisory Committee.
James has managed billions of dollars of capital at elite institutions in Boston (growth and distressed orientation), and his investment platform, FirePine Group (founded in 2009), has stewarded the capital of some of the world's most sophisticated investors. He has played a lead role in "home run" investments such as The Meow Mix Company (IP purchase and start-up),  Mattress Firm (growth equity), and Ultra Diamonds (bank debt conversion into equity).
James received his AB with honors from Harvard College and his JD with honors from Harvard Law School, where he was an editor of the Harvard Law Review.  He lives outside Boston with his wife and three children.  He is a former high school teacher.