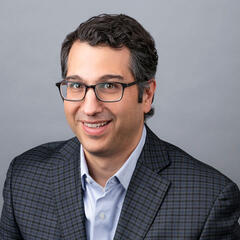 Staff
Lee Ullmann
About
As senior director of MIT Sloan's Latin America Office, Lee implements the overall strategy, planning, and development of activities for the school. Based in Santiago, Chile, he collaborates with local governments, universities, NGOs, and the private sector to extend MIT's role and impact in Latin America.
Lee joined MIT in 2014. His previous experience includes numerous positions in the field of education. He worked in higher education roles for the U.S. State Department in Chile, served as a faculty member at Columbia University, and worked as a consultant in the e-learning sector to help build artificial intelligence software for pharmaceutical companies and databases for museums and schools. He is a former Peace Corps volunteer (Ecuador) and a Fulbright Research Fellow (Turkey).
Lee has published articles and has been invited to speak on a variety of topics, from education in Latin America to new technologies and innovation to the ancient world. In 2017 he co-edited Hittite Landscape and Geography, published by Brill.
 He holds BA, MA, MPhil, and PhD degrees, all from Columbia University.