MIT Sloan Sustainability Initiative
How can art drive climate action and education?
Linda Cheung is leveraging arts, technology and science to awaken and inspire action.
Written by: Tracey Palmer
The climate crisis is perhaps our planet's biggest threat, yet somehow it remains distant and amorphous for many people. As a Sustainability Certificate MBA student, Linda Cheung came to a realization: To spur action, we need to change how people feel about the problem, not just drown them in data and statistics.
"I think a lot of us numb ourselves," Linda says, "not because we don't care, but because we don't know what to do."
That's when she got the idea to create Before It's Too Late. With a small startup grant from the Sustainability Initiative, Linda launched the nonprofit that uses public art and technology, like virtual reality and augmented reality murals, to awaken and engage people on the climate crisis. Linda and the startup's art have been featured in the Miami Herald, Fast Company, the New Yorker, PBS NewHour, and more.
After her time at MIT Sloan, Linda moved to Miami, a low-lying region where the impact of climate change is all too real. Floridians stand to lose more homes to flooding this century than any other state. And most climate models show that by 2070, Miami's streets could flood every single day.
Using what she learned from MIT Sloan faculty like John Sterman and Jason Jay, Linda is focused on the grassroots level, building the public support necessary to drive political action.
Linda Cheung | MBA '17, Founder and Creative Director, Before It's Too Late
Our economic system is entirely focused on producing more to make more money. And yet, we can't have endless growth on a finite planet.
Fighting for radical change 
"The quickest way to radical change," she says, "is to shift paradigms." Before MIT Sloan, Linda worked on Wall Street. Back then, everything was about the numbers. She classified the climate problem as a systems problem that could only be solved through technical tools like policy change and investment dollars.  After connecting with the Sustainability Initiative, her paradigm radically shifted. "I started to realize, no, that's not the problem."
"The problem is cultural. Our economic system is entirely focused on producing more to make more money. And yet, we can't have endless growth on a finite planet."
While earning her MBA, Linda never imagined she'd be painting murals in Miami. Her background was in finance, not art or technology. In fact, she used to scoff at art. Now, Linda merges the power of visual arts and storytelling with science to evoke emotion and create social change. Her murals address the impact of sea level rise on the city, mass biodiversity extinction, native plants and pollinators, and the past and future of Miami. 
This past year, Linda helped Climate Interactive develop interactive educational experiences and community engagement programs to support the diffusion of the En-ROADS climate solutions platform through games, workshops and facilitator training. 
"There's this belief that it's either care about the environment or care about people's economic welfare," Linda says. "And I want people to realize, these are one and the same. If you don't care about the environment, you end up with more poverty and harming more people."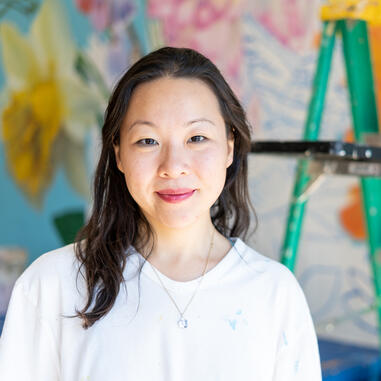 ---