MIT Sloan Sustainability Initiative
Marrying Finance and Sustainability
Faina Rozental knows that sustainable finance can empower communities and improve society.
Written by: Tracey Palmer
Ever since she was a child, Faina (MBA '19, Sustainability Certificate) has demonstrated a fierce drive to succeed. When she was 6, her family fled Ukraine after the collapse of the Soviet Union in 1995. They ended up in Massachusetts. With no knowledge of English and having to make new friends, she struggled.
"It was hard to leave my whole life at that age," she says, "but we were very lucky to settle in Brookline." That struggle shaped who Faina is today, and explains, in part, why she is so driven to make a positive impact in the world.  
After years of ESL classes and lots of hard work on her own, Faina graduated high school and earned two college degrees. In fact, she completed her bachelor's and master's degrees in economics and international relations at Boston University in only four years. Fast forward several years, and Faina joined Root Capital, a nonprofit impact investing firm that lends to Latin American and African agricultural businesses.
"At Root I loved working for a place that opens up economic opportunity for people, while also preserving natural resources," she says, but Faina wanted to do more. 
When she was considering business school, MIT Sloan was her top choice because she knew it would allow her to bridge her interests in finance and sustainability. She wasn't wrong.
With the help of the Sustainability Initiative, Faina was able to hone her financial analysis skills, while at the same time deepening her commitment to leveraging finance as a tool for generating positive social and environmental impact. She also took advantage of other opportunities that combined her dual interests. She was the co-president of the MIT Impact Investing Initiative, vice president of the MIT Food and Agriculture Club, and an MIT Climate Resiliency Fellow. During this time, she also worked for Goldman Sachs and the Sustainability Initiative.
In her second-year, Faina was one of ten second-year students nationwide to win a full scholarship from the prestigious McGowan Fellowship Program, a nonprofit that partners with top-tier U.S. business schools. The organization recognized Faina's academic achievement and ethical business leadership. 
One of the educational accomplishments Faina is most proud of is the Laboratory for Sustainable Business (S-Lab) project she completed with the Environmental Defense Fund (EDF). In the aftermath of Hurricane Maria, her team worked on financing a more resilient Puerto Rico.  
"Our goal was to analyze how EDF could establish itself as an influential partner in mobilizing financing to rebuild Puerto Rico's energy infrastructure," she says. "The work was both messy and timely…but one of the biggest insights I gained about business was that there is no substitute for hearing the customer voice when designing business-led solutions to complex social or environmental challenges—people on the ground know better than anyone what solution would be most helpful to them."
This is an invaluable insight Faina keeps close today at Eventide Asset Management. As an Equity Research Analyst, she finds and invests in public companies whose products and services serve society. "Investing in companies that create value for all stakeholders is integral to my research process. This job is exactly what I was hoping to do after Sloan: apply my combined financial analysis and social impact experience at a values-based, socially responsible investment firm," she says.
"Perhaps most inspiring are Faina's efforts to bring the finance and sustainability communities together. She aims to make MIT Sloan the go-to school for impact and sustainable investment." This is what Sustainability Initiative Senior Associate Director Bethany Patten told Poets & Quants about Faina in 2019. And it's just as true today.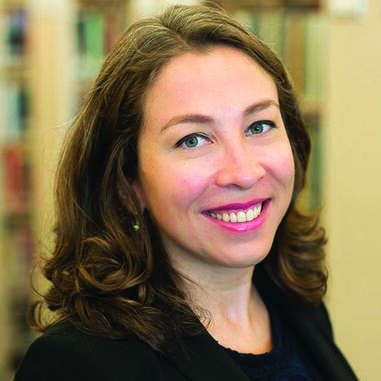 Faina Rozental, MBA '19
Equity Research Analyst

Eventide Asset Manager
---