MIT Sloan Sustainability Initiative
Sharing the Power of the Sun
Sandhya Murali is putting clean energy in the hands of ordinary Americans.
Written by: Tracey Palmer
% of Americans who cannot install a solar rooftop system
Rooftop solar panels are a triple-threat. They allow people to save money on electricity, invest in renewable energy, and help combat the climate crisis. Unfortunately, the majority of Americans – 80% in fact – cannot install a rooftop system. Sandhya Murali is changing that. 
Sandhya and her co-founder, Steph Speirs MBA '17, explicitly created a social enterprise to dismantle this system of inequality in the clean energy industry. It's called Solstice, and it's putting clean energy in the hands of ordinary Americans, regardless of their income, their home ownership status, and other markers of privilege. And it all started at MIT Sloan.
Sandhya was on track to graduate with her Sustainability Certificate when she got an email from Steph, then an incoming Sloan MBA working to improve access to solar energy in Pakistan and India. Steph realized developing countries weren't the only ones struggling with energy inequalities. She reached out to the Sloan community to see if anyone was interested in joining an early-stage solar social enterprise in the United States. Sandhya had interned at Buen Power Peru, a for-profit social enterprise that distributes inexpensive solar lamps to off-grid communities in the Andes, and worked on several sustainability projects through S-Lab and Sloan Entrepreneurs for International Development.
These experiences piqued her interest in bringing renewable energy to those traditionally locked out. She was quick to reply to Steph, and eventually helped launch Solstice.  Among other early-stage supporters, the Martin Trust Center "MIT Delta V Accelerator Program" and the "MIT Sandbox Innovation Fund" helped bring Solstice to life. And while Sandhya worked to get the enterprise off the ground, the Sustainability Initiative hired her to help create and launch the Renewable Energy Finance roundtable in the fall of 2015.
Sandhya Murali | MBA '15, Co-Founder & COO, Solstice
Including a broader swath of American households in community solar projects isn't just the right thing to do, it's an essential part of combatting the climate crisis.
Solar for all
Many people are locked out of solar because they aren't allowed to put solar on their rooftops or can't afford the upfront costs, says Sandhya. As a result, families who need solar savings the most in this country are the least likely to get it.
Solstice—the first social enterprise dedicated to expanding affordable solar power to everyone—offers a disruptive solution. The company enrolls households and community organizations in shared solar farms, creates financing innovations that expand access to underserved Americans, and provides frictionless subscriber management software for community solar projects.  
"Community solar is a huge, untapped market," says Sandhya. "We're never going to scale the benefits of renewable energy and make the impact on climate change we need to make if we don't figure out how to democratize access to clean energy."   
With this in mind, Steph and Sandhya teamed up with data scientists from Stanford University and MIT, including Christopher Knittel, the George P. Shultz Professor at MIT Sloan, to create a new qualification metric called the EnergyScore. The tool uses a machine learning system trained on data from over 800,000 consumer records, including things like utility payments, to predict payment behavior in community solar contracts. Sandhya says it predicts future payment behavior more accurately than FICO and qualifies more low-to-moderate income Americans to participate in community solar.  
To date, Solstice has connected nearly 3,000 customers to community solar projects and generated demand for over 100 megawatts of clean energy across New York and Massachusetts. 
"Including a broader swath of American households in community solar projects isn't just the right thing to do," says Sandhya, "it's an essential part of combatting the climate crisis."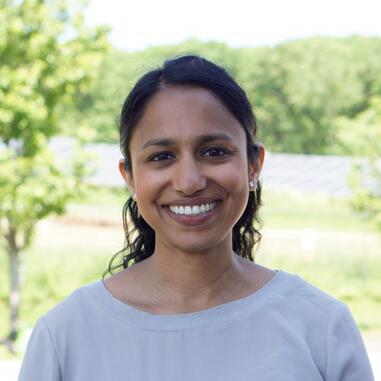 Sandhya Murali
MBA '15, Sustainability Certificate

Co-Founder and COO at Solstice
---