Virtual: Dean's Circle Conversation with Professor Renée Richardson Gosline
Register Now
Dean's Circle donors are invited to participate in a virtual conversation featuring Renée Richardson Gosline, Senior Lecturer in the Management Science group at the MIT Sloan School of Management and Principal Research Scientist at MIT's Initiative on The Digital Economy.
How and when do we decide to put important decision-making processes in the hands of bots and algorithms and trust them over our own data and research? Join Professor Gosline as she examines the consequences of these behaviors and what it means for society at large.
The MIT Sloan Dean's Circle honors our alumni and friends who choose to make leadership gifts to the MIT Sloan Annual Fund in any given fiscal year (July 1-June 30). With a gift of $2,500 or more ($1,000 or more for those who have graduated in the last four years), have dedicated a higher level of commitment, responsibility, and leadership at MIT Sloan. Dean's Circle events celebrate the generosity of this essential group of donors, who help foster groundbreaking ways for the MIT Sloan community to create value for the world. Invest in the next generation of principled, innovative leaders and support the future of MIT Sloan and become a Dean's Circle donor today! For more information, please email deanscircle@mit.edu.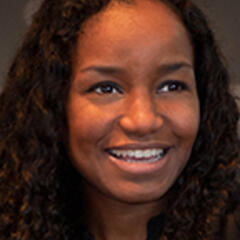 Management Science
Senior Lecturer and Research Scientist, Marketing
Learn More
SDM 2021 Virtual Information Session
Discovering The New Builders
Together We Are More: Building an Inclusive Workforce
The Inclusive Innovation Economy: Ideas + Actions