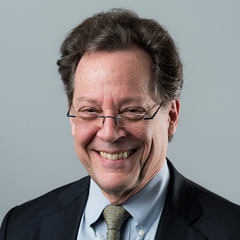 Faculty
Leigh Hafrey
About
Academic Groups
Academic Area
Centers & Initiatives
Leigh Hafrey is a Senior Lecturer at the MIT Sloan School of Management.Since 1991, Hafrey has worked in professional ethics, with a focus on ethical leadership, teaching courses at Harvard Business School and MIT Sloan, and consulting with professional practitioners in the United States and abroad. At MIT Sloan, he teaches in the MBA program and Leaders for Global Operations, for which he moderates a mandatory two-year leadership course. He has also taught in MIT's Industrial Liaison, MIT-China Management Education, Master of Finance, Management of Technology, Nanyang Fellows, Sloan Fellows in Innovation and Global Leadership, Supply Chain Management, and System Design and Management programs.Since 1996, Hafrey has moderated the Aspen Institute's Seminar in Leadership, Values, and the Good Society and other seminars sponsored by the Institute in the U.S. and abroad. From 1993 to 2010, together with his wife, Sandra Naddaff, Hafrey was a co-Master of Mather House, one of the 12 residential complexes in Harvard College. The Mather community brings together 400 undergraduates; 100 faculty, administrative, and alumni fellows; and dozens of advisory and other staff.A former staff editor at The New York Times Book Review, Hafrey has published reporting, essays, reviews, interviews and translations in The New York Times and other American and European periodicals. He serves on the editorial advisory board of Philosophy of Management (U.K.) and the Journal of Business Ethics Education (U.S.). His publications on business and management include a quarterly column for IPA's Business Today (2007-09); cases and blogs for MIT Sloan; a book on how people use stories to articulate ethical norms,The Story of Success: Five Steps to Mastering Ethics in Business (2005); and War Stories: Fighting, Competing, Imagining, Leading, an essay on business alternatives to a culture of war in today's America (2016).Hafrey holds an AB in English from Harvard College and a PhD in comparative literature from Yale University.
Publications
Hafrey, Leigh. MIT School of Humanities, Arts, and Social Sciences: Great Ideas Change the World, February 18, 2019.
"Do Good Manners Matter? Protocol, Etiquette, and Ethics."
Hafrey, Leigh. In 17th Annual International Protocol Education Forum, Boston, MA: July 2018.
"What is Business Ethics, & How Do We Live and Work By It?"
Hafrey, Leigh. Presentation, Banco Pichincha, Quito, Ecuador. February 23, 2018.
Leigh Hafrey and Cate Reavis. In MIT Sloan Case #15-162, Cambridge, MA: April 2016.
"Asociación Chilena de Seguridad (ACHS) (B): Sustaining Change."
Leigh Hafrey and Cate Reavis. In MIT Sloan Case #15-163, Cambridge, MA: April 2016.
Hafrey, Leigh. The Blog. The Huffington Post, January 2016.
Load More