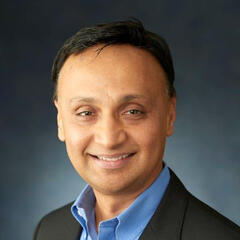 Faculty
Rama Ramakrishnan
About
Rama Ramakrishnan is Professor of the Practice at the MIT Sloan School of Management. His research and teaching interests center on the application of data science and machine learning techniques to problems in industry and in the creation of products and services made intelligent by the algorithmic use of data.
Prior to joining MIT Sloan, Rama was a data science entrepreneur and tech executive for over 20 years. He has founded or been a senior executive in four software companies that have exited to technology titans Oracle, Salesforce, and Demandware. He is active in the startup ecosystem as an advisor, angel investor, and board member.
Most recently, Rama was senior vice president at Salesforce (NYSE: CRM) and chief data scientist for Salesforce Commerce Cloud. In this role, he led Salesforce Einstein for Commerce–the analytics/machine-learning platform that powers Salesforce Commerce Cloud–and was responsible for product management, engineering, data science, and cloud production operations. The Einstein platform uses analytics techniques to predict and influence the shopping behavior of hundreds of millions of unique shoppers monthly.
The path that led Rama to Salesforce started in July 2010 when he founded a startup, CQuotient, to build a data-science-based personalization platform for retail and e-commerce. Backed by funding from Bain Capital Ventures, Rama built and grew the company to a successful exit to Demandware (NYSE: DWRE) in October 2014. As a member of the Demandware executive team, Rama was involved in the successful sale of Demandware to Salesforce in July 2016 for $2.8 billion. CQuotient technology, now known as Salesforce Einstein for Commerce, is one of the top B2C recommendation engines in the world and influences the shopping behavior of billions of consumers annually.
Prior to founding CQuotient, Rama taught analytics at MIT Sloan, was chief scientist and VP of R&D at ProfitLogic, was chief analytics officer and VP of R&D for the retail business of Oracle, founded two analytics companies, and was a consultant at McKinsey & Company.
Rama has a BTech degree from the Indian Institute of Technology, Chennai and MS and PhD degrees from MIT.
Recent Writing
Lessons from a Deep Learning Master, July 17, 2020.
Data Scientists, Ask Yourself Often: So What?, June 8, 2020.
Create a Common-Sense Baseline First, January 12, 2018.
...
more
Recent Speaking
"Confessions of a Data Science Entrepreneur and Educator", Distinguished Speakers' Series, EMC/Dell Corporation, August 12, 2020.
"
Underscore VC Panel: AI/ML Innovation in a Post-Pandemic World
",
underscore.vc
, June 23, 2020.